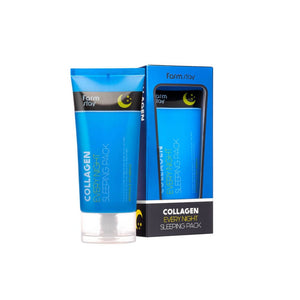 Description
How to Apply
Ingredients
More
Description
FARM STAY Collagen Every Night Sleeping Pack contains hydrolyzed collagen that refreshes dry and tired skin. The mask is quickly absorbed and does not leave a sticky feeling. The product penetrates the skin during sleep making it more elastic and healthy. The gentle texture of the mask nourishes the skin, fills it with moisture and softens. It improves elasticity and prevents the formation of wrinkles. This sleeping pack is suitable for dry, dehydrated skin.
Paraben-Free
Sulfate-Free
Alcohol-Free
How to Apply
Apply as the last step of your nighttime skincare routine, 15-20 minutes before bedtime.
Ingredients
Water, Butylene Glycol, Cyclopentasiloxane, Glycerin, Niacinamide, Dimethicone, Polysorbate 60, Cetyl Alcohol, 1,2-Hexanediol, Caprylic/Capric Triglyceride, Cetyl Ethylhexanoale, Panthenol, Palmitic Acid, Sorbitan Stearate, Stearic Acid, Carbomer, Dimethiconol, Potassium Hydroxide, Glyceryl Acrylate/Acrylic Acid Copolymer, Ethylhexylglycerin, Xanthan Gum, Adenosine, Disodium EDTA, Hydrolyzed Collagen (100ppm), Sodium Hyaluronate, Myristic Acid, Fragrance.
More
We usually receive the most current product versions directly from Korea. While we make every effort to update images and provide accurate and up-to-date information, please be aware that manufacturers may occasionally change ingredients without prior notice. If you are seeking a specific product version, we kindly request that you reach out to us for confirmation. Please note that we are not responsible if ingredients on the box differ from the description in the ingredients section.
Best ever !!
I like this sleeping mask so much, without apply it on for the night it seems something is missing off here on my face.
This by far is the best ever mask which I highly recommend and my lady friends whom had tried it all return in "like" comment.