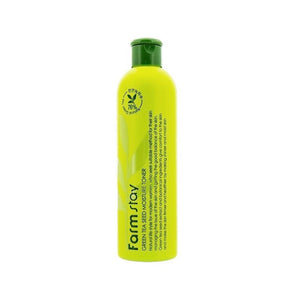 Description
How to Apply
Ingredients
Disclaimers
Description
This moisture toner with a plant extract of Green Tea Seeds, Tea Tree Extract and Hyaluronic Acid balances the skin's pH levels, removes any remaining impurities, and prepares the skin to absorb other skincare products better. Green tea is rich in antioxidants protects the skin against free radical damage and prevents premature aging. It soothes and calms irritated skin, making it an excellent ingredient for those with sensitive skin. Tea Tree provides moist cooling and soothing effect on tired skin and Hyaluronic Acid helps to strengthen the barrier of the skin so that it's softer, smoother and appears plumper.
Sulfate-free
Silicone-free
Essential Oil-free
How to Apply
Take an appropriate amount into the palm, and gently spread it over the face; or soak a cotton pad with a proper amount of toner and gently wipe across the face.
Ingredients
Water, Sodium Hyaluronate, Butylene Glycol, Glycerin, Alcohol, Camellia Sinensis Leaf Water, PEG-60 Hydrogenated Castor Oil, Phenoxyethanol, Carbomer, Triethanolamine, Methylparaben, Camellia Sinensis Seed Extract (300mg), Lavandula Angustifolia (Lavender) Extract, Rosmarinus Officinalis (Rosemary) Extract, Melaleuca Alternifolia (Tea Tree) Extract, Aloe Barbadensis Leaf Extract, Geranium Maculatum Extract, Betaine, Disodium EDTA, Xanthan Gum, Fragrance
Disclaimers
We usually receive the most current product versions directly from Korea. While we make every effort to update images and provide accurate and up-to-date information, please be aware that manufacturers may occasionally change ingredients without prior notice. If you are seeking a specific product version, we kindly request that you reach out to us for confirmation. Please note that we are unable to offer refunds in cases where the ingredients differ from the description in the ingredients section. Your understanding is greatly appreciated.