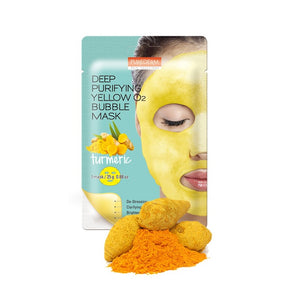 Description
How to Apply
Ingredients
More
Description
This is a wash-off sheet mask that generates O2 bubbles to remove impurity, dead skin cells, and sebum to cleanse and brighten your skin. Turmeric Powder, known to be an excellent nutritional ingredient, alleviates the stress of the skin while Superfood 10 Complex provides vitality and energy to the weary skin of everyday life. Plus, Papaya Fruit Extract and Sugarcane Extract naturally remove unnecessary dead skin cells to brighten your skin tone.
*Superfood 10 Complex: Sweet Almond, Oat Kernel, Soybean, Blueberry, Orange, Kale, Yogurt, Pumpkin, Broccoli, Salmon Egg.
*This product does not contain Sulfates, Mineral Oils, Synthetic Coloring Agents or Petrolatum.
How to Apply
Before use, rub the surface of the pouch to mix the contents well.
Take out and unfold the mask. Apply the mask over a dry face in alignment with the face shape.
Wear the mask for 10-15 minutes. Remove the mask when the oxygen bubbles have risen sufficiently.
Rinse your face with lukewarm water.
Ingredients
Water, Glycerin, Dipropylene Glycol, Methyl Perfluoroisobutyl Ether, Methyl Perfluorobutyl Ether, Cocamidopropyl Betaine, Disiloxane, Sodium Lauroyl Glutamate, Sodium Cocoyl Apple Amino Acids, Curcuma Longa (Turmeric) Root Powder, Prunus Amygdalus Dulcis (Sweet Almond) Seed Extract, Avena Sativa (Oat) Kernel Extract, Glycine Max (Soybean) Seed Extract, Vaccinium Angustifolium (Blueberry) Fruit Extract, Citrus Aurantium Dulcis (Orange) Fruit Extract, Brassica Oleracea Acephala Leaf Extract, Yogurt Extract, Cucurbita Pepo (Pumpkin) Fruit Extract, Brassica Oleracea Italica (Broccoli) Extract, Salmon Egg Extract, Carica Papaya (Papaya) Fruit Extract, Citrus Limon (Lemon) Fruit Extract, Acer Saccharum (Sugar Maple) Extract, Vaccinium Myrtillus Fruit/Leaf Extract, Saccharum Officinarum (Sugar Cane) Extract, Retinyl Palmitate (Vitamin A), Helianthus Annuus (Sunflower) Seed Oil, Tocopherol (Vitamin E), Tocopheryl Acetate (Vitamin E), Xanthan Gum, Hydroxypropyl Methylcellulose, Allantoin, Disodium EDTA, Hydroxyacetophenone, Chlorphenesin, Illicium Verum (Anise) Fruit Extract, Propanediol, 1,2-Hexanediol, Caprylyl Glycol, Phenoxyethanol, Fragrance
More
We usually receive the most current product versions directly from Korea. While we make every effort to update images and provide accurate and up-to-date information, please be aware that manufacturers may occasionally change ingredients without prior notice. If you are seeking a specific product version, we kindly request that you reach out to us for confirmation. Please note that we are not responsible if ingredients on the box differ from the description in the ingredients section.