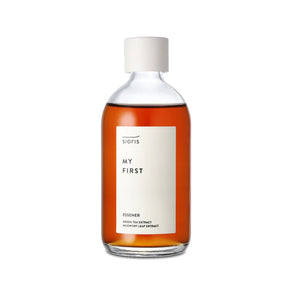 Description
How to Apply
Ingredients
Description
SIORIS My First Essener is a unique skincare product that combines the benefits of an essence and a toner into one powerful formula. This multitasking essence-toner is designed to provide deep hydration and nourishment to your skin, giving it a healthy and radiant glow.

The key ingredient in this product is green plum water, which is derived from organic green plums harvested in Korea. Green plum water is rich in antioxidants, vitamins, and minerals, making it a potent ingredient for skincare. It helps to replenish and retain moisture in the skin, improving its overall hydration levels.

The essence also contains a blend of natural plant extracts and botanical oils, carefully selected to provide additional skin benefits. These ingredients include macadamia seed oil, jojoba seed oil, and centella asiatica extract, among others. They work together to soothe and calm the skin, reduce redness and inflammation, and improve the skin's elasticity and firmness.

SIORIS My First Essener has a lightweight and watery consistency that is easily absorbed into the skin. It can be applied directly onto cleansed skin or used after a toner to enhance its effects. The essence-toner is suitable for all skin types, including sensitive skin, as it is formulated without harmful additives such as parabens, synthetic fragrances, and artificial colors.

Paraben-free
Sulfate-free
Fragrance-free
Silicone-free
Essential Oil-free
Alcohol-free
How to Apply
After cleansing, use an appropriate amount of Essener during the first step of your skincare routine. Evenly apply the product all the way to the outer edge
of the face; pat the skin lightly to let it absorb the product. Soak a cotton pad with Essener and use it as a type of 10-minute sheet mask on areas that need added relief.
Ingredients
*Camellia Sinensis Leaf Extract (42.7%), Water, Glycerin, Pentylene Glycol, Butylene Glycol, Rosa Damascena Flower Water, Sclerotium Gum, Artemisia Princeps Leaf Extract, Xanthan gum, Betaine, Sodium Hyaluronate, Hydrolyzed Hyaluronic Acid, Hyaluronic Acid, Polyglutamic Acid, Citric Acid
*Organic Certified Ingredients (26.13%)